What's the first thing you check every morning when you need to monitor how your website is performing?
If you look at revenue, visits, clicks or perhaps leads – these are good metrics that directly track and provide you with insight to the health of your campaigns.
But if you run a business with multiple advertising channels across multiple traffic sources, chances are you may be ignoring the hidden pieces of data inside your tracking tools, which you are getting everyday, around the clock.
The reason why you never spot them is because you're not looking for it.
Is that wrong? Well, yes, because you could be missing out on wads of dollars, and various avenues for earning extra profit as well as the growth of your business.
Here are five commonly overlooked metrics that could potentially make you more money and change the way you advertise forever:
1. On-Page Click Data
Let's consider the design of your website. There are many different ways to how a particular sales page or landing page should look like. Every marketing guru has his or her own idea of what works, what users are attracted to and what triggers a sale.
What's important is to question why a particular button might work more than the other, and why a certain banner gets you more signups than the other.
Google Analytics (and many other tools in the market) now enables you to track which part of the page the users respond to.
For example, here is what we found on our OmHarmonics landing page:

28% of the people who landed on this page clicked on the "Audio" tab on the Header.
Since OmHarmonics is an audio product, giving the users a chance to listen to the track itself would definitely increase signups, as it's what most of them would look out for on the landing page.
Next, we tested a function where they'd be able to listen to a sample audio on the landing page itself. This increased our landing page conversion rate by 16%. So something as simple as monitoring user click behavior gave us a boost in conversions in almost no time.
How To Get This Data
If like us, you are using Google Analytics, this data is available under the Content tab.
2. Day Of Week Data
We recently launched a new product at Mindvalley, and in the second week, we monitored the following "Day of Week" data:

Not only were we getting better conversion rates during the weekend, but this also happened at a lower cost-per-conversion as well. From this data, we went on to analyze the progress for weeks and decided to allocate more advertising budget in our AdWords account for weekends.
As a result, we saw a spike in the overall conversion rate and return on investment (ROI) on a much lower cost/conversion.
How To Get This Data
It's available in the Dimensions tab in your AdWords account, but you will also have the option to view it on other major advertising platforms as well.
On Google Analytics, it can be viewed for all kinds of traffic. So imagine being able to see this for not only your advertising accounts, but also for analyzing the time your send emails, share social post and publish content on your blogs.
3. Demographic Data
The more you know your customers, the more successful you can be. So check if you've ticked off the following with your audience:
– What region/country/city are most of my customers from?
– What languages do my customers see the website in?
– Are customers mostly male or female?
– Do I have customers from a specific age group?
If you have, then you are probably already trying to figure out ways to target them. But if you are still unaware of how this information can help you, here's how getting to know our customers helped us:
We recently worked on a website that was selling a particularly famous book. The book was being sold in the USA and therefore written in English by default. On digging deeper into who visited the website, we realized that about 20% of them are Hispanic, and yet there was not a single Spanish word on the website.
So we did the logical – we made a special page just for our Hispanic visitors. This instantly unlocked a new stream of revenue for that website. It's amazing how something so simple could make such a difference if only you caught it.
Here's another example:
When we discovered that another product of ours are a hit with female customers, we didn't only tweak our advertising campaigns to target women, but we also engaged them with a more feminine design and copy.
How To Get This Data
– Although Google Analytics/Coremetrics only collect geographical & language-specific data, there are many other tools in the market that will do an Age Group or Gender Analysis for your email list such as Fliptop and Rapleaf.
– AdWords now lets you run demographic-specific campaigns to enable you to target users based on Age or Gender.
4. Usability Data
Increasing site usability is a science in itself. Here are questions we often ask to make sure we're giving the user not only the best experience but also one that they actually desire:
– Which browsers do our users use the most?
– Are the websites we make responsive to those browsers?
– How much time does it take for a landing page to load?
– Are the users able to navigate easily from one page to the other?
Consider this piece of data we got for one of our websites: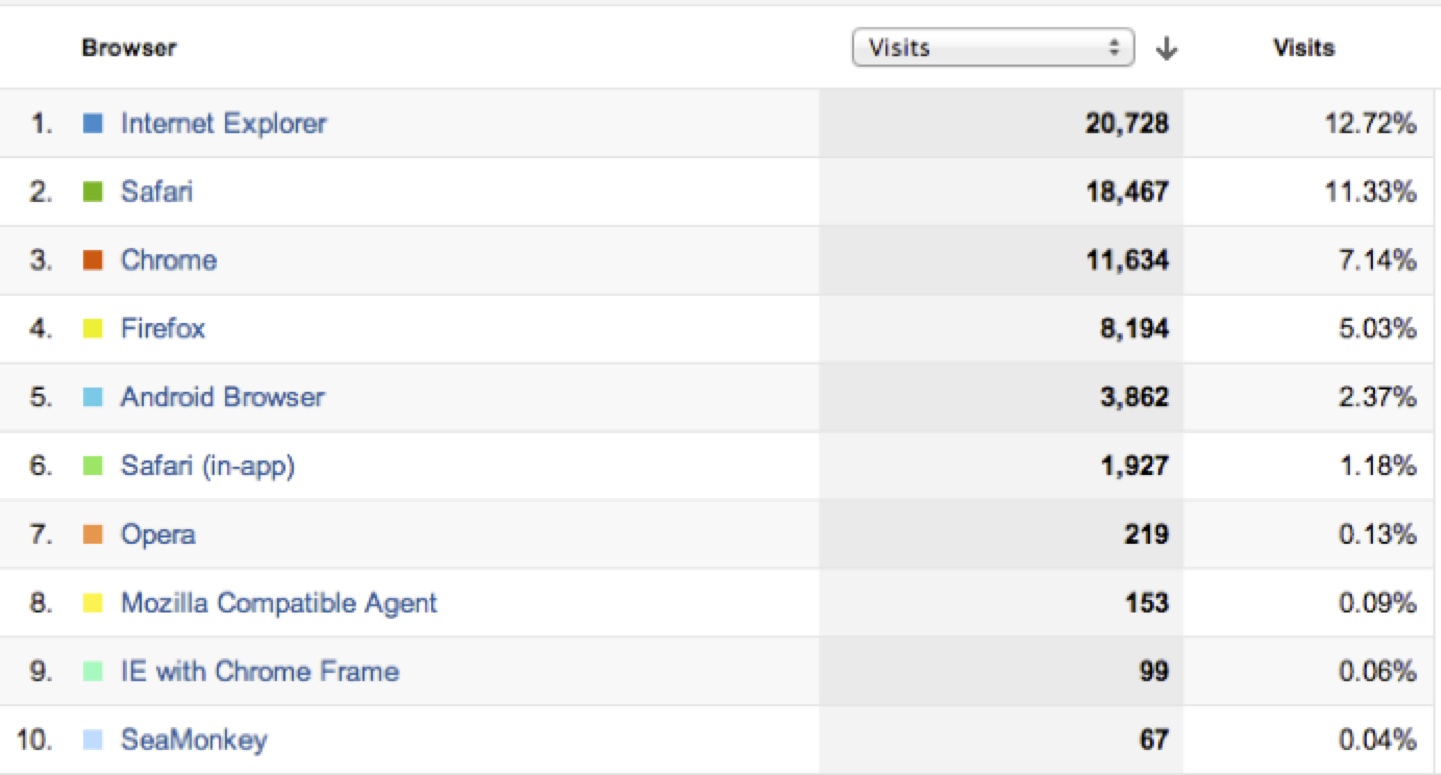 A considerable chunk of our visitors were using Internet Explorer (IE). That pushed us to do a comprehensive usability analysis of the website. Guess what we found?
The average time our (paid advertising) landing page took to load on IE was about 17 seconds. That was far too long compared to other browsers, and also much more than the e-commerce industry average, which is about 7-10 seconds.
As a result, we made changes to the site's usability in IE and this increased our conversion rate.
How To Get This Data
Both AdWords and Google Analytics give you browser-specific data.
To analyze Usability Data using Google Analytics, use the Technology tab for Browser & OS data and the Content tab for Site Speed data.
5. Hour Of Day Data
There are always theories thrown by marketers on monthly and yearly trends. While they are good to know (and hard to get), one of the easily available trends you always have access to are the "Hour of Day" trends.
Let's put it this way – it's much easier to find unique trends when it comes to what time of the day users would be buying the most. In this case, people are much more likely to indulge in similar behavior (having breakfast in the morning, for example) during certain times in a day.
Consider this new piece of data we recently got for one of our new businesses:

The alarmingly high cost/conversion can be attributed to the fact that users visiting our websites late at night converted much less compared to those who visited during the day.
The average cost /conversion for this business was $6, and we were paying more during the night.
After realizing this we started to "day-part" our AdWords campaigns and scheduled our ads to appear only during hours that showed higher conversion rates. In doing so, we brought down the cost/conversion to $4, and increased our conversion rate by 30%.
This data can also be used in scheduling social media posts, blog posts and other advertising campaigns to see when you get the most responses.
How To Get This Data:
– Check out the 'Dimensions' Tab for 'Hour of Day' Data in AdWords.
–Also, you could simply look at 'Hourly' Data in most of your Google Analytics reports by simply clicking on the following button on the right hand corner.
The Bottom Line…
In our experience of running multiple websites, when there are spreadsheet after spreadsheet of data pouring in daily, it becomes increasingly important to make extra efforts to find the small pieces that can make a tremendous difference to our websites and our users.
Now, if only we can spot other metrics that could be added to this list. Got any of your own to share? Let us know. We value feedback. And we'd like it if you could go ahead and share this post if you found it useful. Thanks for the read.