As a kid, I had a technique I used whenever I needed to ask my mom for money. This is how it usually went:
Me: "Mom, I need fifty bucks for a school project."
Mom: "Why so expensive? What type of project is it for?"
Me: "I'm only kidding! I only need thirty bucks. It's for a science project."
And I would get the money without further inquisition from the budget ministry!
I figured that every time I needed to ask for money, I would only have to justify the amount. Of course, as a 10-year old, I didn't have the necessary skills to prepare a presentation or a spreadsheet in order to explain my costs. But every time I needed money, I started at a higher price (at times an exaggerated one) to eventually get my way.
Recently, I was doing some research on Order Menus when I stumbled upon a concept called "Primacy Effect", which I read about on Visual Website Optimizer.
It's a concept that affects the behavior of consumers by how "multiple items are arranged in a list or catalog". Basically, how you arrange the packages of your product do have an effect on what they buy or whether they buy at all.
Mindvalley products are usually offered in three packages: Silver, Gold and Platinum. The Silver package is a digital or downloadable product, the Gold a physical product shipped to consumers and the Platinum collection is a combination of the two.
Primacy Effect states that because people in general read from left to right, and if the products are arranged in an ascending order, customers will usually spot the cheapest package first. But my childhood technique inversely applies here too – if they see the cheapest package first, other packages will automatically seem "expensive".
For instance, here's what our Order Menu on Silva Life System looks like: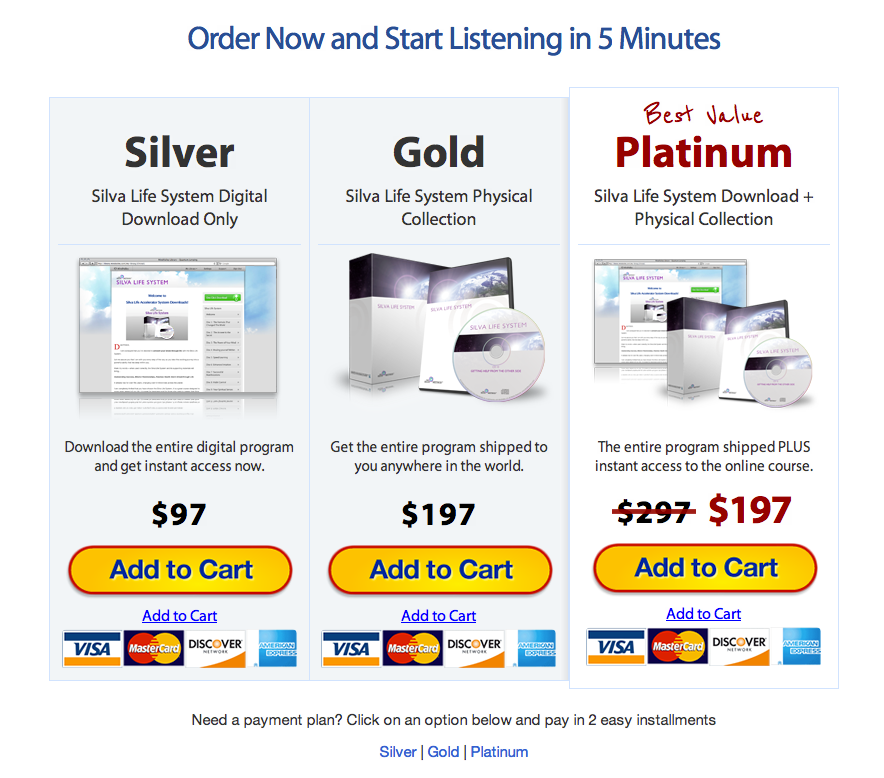 Customers would read the prices in the order of $97, $197 and $297 (on an offer reduced to $197). To apply the Primary Effect concept, we decided to swap the Silver and Platinum packages and test it against the original.
Here is what the Order Menu looked like after swapping the two collections: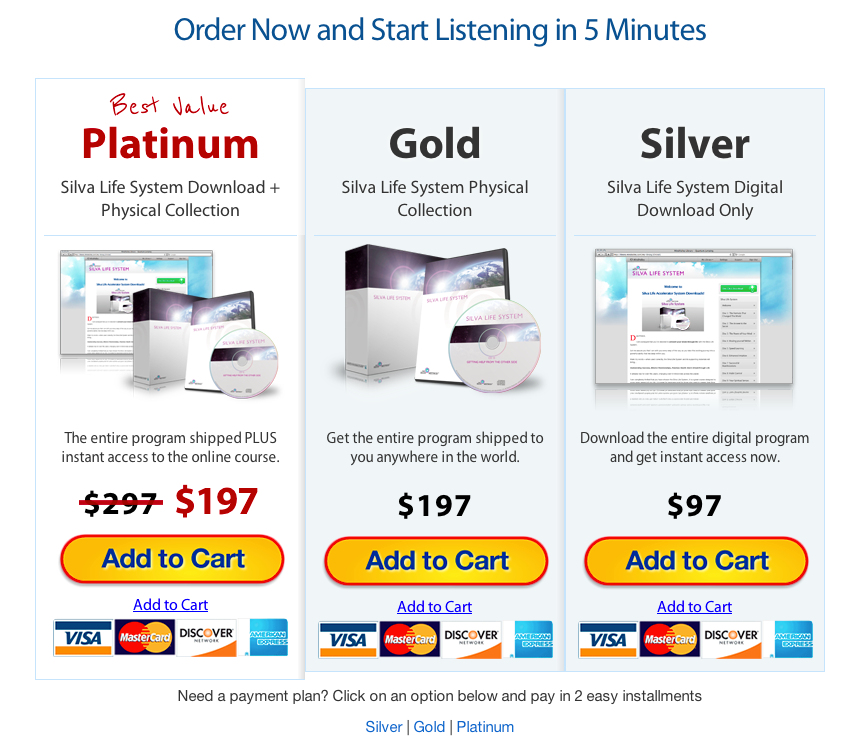 Can you guess if this test was helpful or hurtful to our sales?
By a difference of a whopping 71.92%…
The new Order Menu hurt our sales.
This seemed crazy, considering all the research that pointed to Primacy Effect as a driving force to boost sales. But it didn't work for us, and upon analyzing the case, here's what surfaced:
1. We only gave three options. Primacy Effect worked on the basis that it draws the eyes from left to right, but visually, it would only take a glance for a customer to perceive our entire Order Menu. This cancels out the desired effect due to the lack of ascend.
2. Technically, there were only two different prices. The offer on the Platinum collection is perpetual. This was designed to get people to buy the Platinum collection because they are getting more for the price of the Gold package. Because of the limited number of choices, it was not as impactful.
3.  Lastly, we put our premier choice at the left-most of the Order Menu. We shouldn't have done that. The choice at the left-most usually offers the shock value – the choice that makes customers go "Whoa this is pricey", and the premier option should've been somewhere else. In our case, we hurt ourselves because our premier option showcases the highest price among all.
Although our first experiment with Primary Effect didn't work in our favor, like all tests, it shed some good light on certain features (in this case – our order menu) and enabled us to read our visitors better.
Thanks for having a read, and let us know if you would try Primary Effect out on your page. If you've tried any crazy tests that worked (or didn't work) for you lately, share them with us and other Mindvalley Insights readers below.