There is a lot of buzz going on nowadays about the profitability of Facebook Advertising – but is it all hype?
The simple answer is no!
With over half a billion registered users, Facebook is THE platform to grab some high quality leads and unsuspectingly turn them into your most loyal customers.
After a year-and-a-half of experimenting and innovating on our Facebook Advertising campaigns, we have cracked the code on how to recuperate costs and start making profit two months after your Facebook advertising investment.
We have tons of material to share with you on how to turn Facebook Advertising into a sales machine. We'll start with Tip #1 which will help put some "ompf" into your Facebook sales conversions and follow up with more tips in upcoming articles.
Tip #1: Make Payment Plans the Main Option on Order Menus
Payment plans are usually done in two installments: first during the main transaction and the second after 30 days. All of our products can be purchased with payment plans, but it has always been pitched as a secondary option to the main sales offer at full one-time-payment price. See our sales offer for Chakra Healing in which we already offer a 50% saving: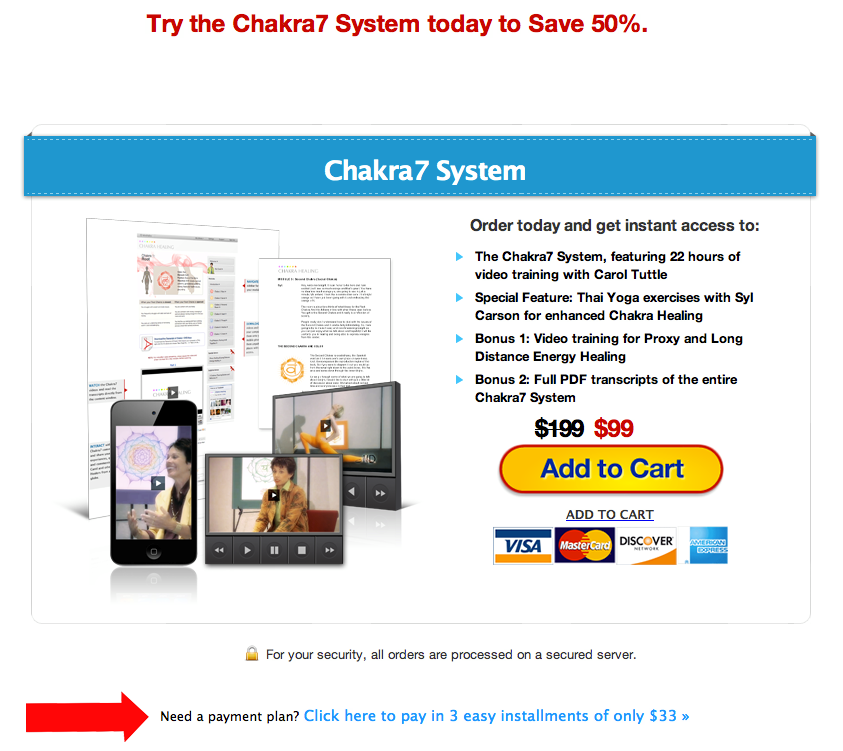 But this got us thinking – should the Order Menu on the landing page reflect the interest and the traffic source of the buyer? After all, a customer from a search engine who has been actively searching for your product is a totally different type of buyer compared to a Facebook surfer who stumbled upon your ad or was targeted by your campaign.
As such, we decided to run a test on our landing page for Chakra Healing by replacing the standard Order Menu by dividing the main sales offer price into three payment plans. As such, instead of offering the $199 product for one payment of $99 we split the 50% offer into 3 part payments of $33 each: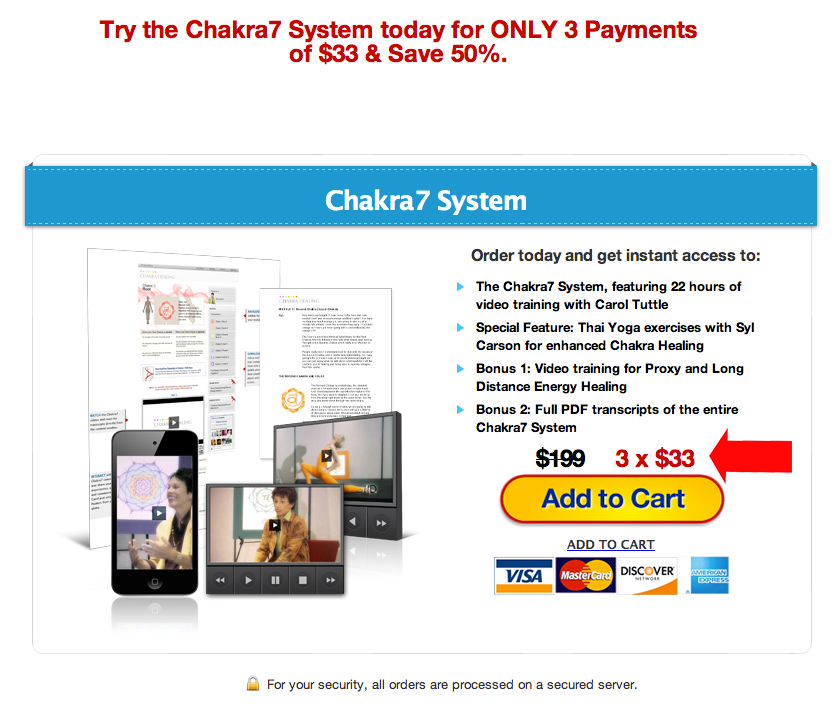 The following results from Website Optimizer were very interesting!
The new Chakra Healing Order Menu boosted sales by 75.6% and had a 98.6% chance of beating the original version:

There you have it – Tip# 1 to help ensure that your Facebook Advertising strategy doesn't fall through at the last minute when someone clicks on your Facebook Ad only to turn away when they see the full product price on your Order Menu. Always make your sales offer is as appealing (and affordable) as possible, no matter the product price.
Let us know below whether this idea has helped or inspired you to implement a payment plan for your own Facebook landing page Order Menu.
If you enjoyed this insight, why not check out Tip# 2 – Free Shipping for Facebook Users.
---
[googleplusauthor] is the Project Manager of Mindvalley's Analytics and Innovations Team.