"Your entire success rests on the strength of your headline." – John Caples
In the book Tested Advertising Methods, author John Caples stressed that the headline is the single most important element of an ad, and a bad headline can cause your entire campaign to fail.
And perhaps the most effective headline in advertising history came from David Ogilvy, whom in 1959 worked with his copywriters to produce an ad for Rolls Royce.
Instead of making the common promise of speed and class as most luxury carmakers, he went with "At 60 miles an hour the loudest noise in this new Rolls-Royce comes from the electric clock."
By implying the power, sophistication and the perfection of the car design through the promise of sleekness and quiet, Ogilvy nailed it. He hit the spot. And the conversion, needless to say, shot through the roof.
At Mindvalley, we even encourage our copywriters to spend up to a few days just to create the headline for a sales copy, and half the time it takes for them to compose an email to create the subject line.
I'm about to share a headline technique that I learned from someone a while back. This technique can be used for just about anything you publish – an advertisement, a sales letter, an email, a blog post title, a social media status or even a tweet.
I don't remember who this person was exactly (yes, I'm human), so if you're the author and you're reading this – please reach out to us so we can properly thank you and credit you. We've been applying your technique in our copies at Mindvalley and it has boosted our conversions and our writing skills for the better.
As for the rest of you, here are the ABCS to writing effective and gripping headlines:
A is for AUTOMATION
People in general are inherently lazy, and a product that promises to take the work out of their hands would be more likely to win their attention. Automation implies that very luxury – whatever you're selling is going to fix the problem for the customer automatically.
Let's say you're selling accounting software. If you had to pick between "Use This Software to Do Your Accounting Faster" and "Speeds Up Your Accounting", the second one would be your winner.
The first gives the impression that the customer would have to make an effort and do something. The second implies automation. "Speeds Up Your Accounting" – the customer doesn't have to do anything.
If you're selling a product on meditation, instead of using "Meditate With Ease", go with "Makes Your Meditation Easier".
Automation tells customers that your product or service is convenient to use, easy to apply and quick to produce results. You'll need to make sure that your product can meet these claims, of course…
B is for BENEFIT
"So what?" Customers need to be told what they can get out of a product the moment they read the headline. Frank Kern's teaching has inspired us to use this single tip:  pretend you're talking to a customer who constantly questions "What's In It For Me?"
A "benefit" headline is where the phrase "telling you as it is" can definitely work in your favor. Let the reader know exactly how the product or service is gonna, well, service him. We recently ran a webinar with Mike Dooley on common mistakes in manifesting, so our headline was "Are You Making These 5 Manifesting Mistakes?" This implies that customers will find out what the manifesting mistakes are. Another example: "Text Your Wife Into Bed" by copywriter Chris Haddad (which converted thousands of dollars in just days) implies the benefit of, um, you know what.
Let's take another example. Below is the headline we used for Silva Mind Body Healing:

Notice how we incorporated the method and the desired result into the headline: you get a 3-step process taken from the original teaching of the Silva Method, and you will master the art of healing your mind and body effectively.
C is for CURIOSITY
Curiosity teases and seduces. Curiosity creates suspense. Nothing works quite as well as a good teaser. The headline "Are You Making These 5 Manifesting Mistakes" also gets customers curious because now they want to know if they are making one, two or all of those mistakes (after all, most people just can't live with knowing they've been doing something wrong).
"Are You Making These Common Mistakes Women Make?" "Are Your Chakras Balanced?" "The 5 Hidden Reasons Why Your Website Is Losing Money". Giving them a taste of the product but not the whole picture arouses curiosity.
For the Gabriel Code, our first venture into the weight loss industry, we didn't ask people if they wanted to lose weight. Everyone asks that. Instead, we threw them off by using the headline:

When have people ever been asked if their bodies secretly wanted to be fat, ever? What kind of a question is that? Whatever the instant reaction was, the headline awakened the curiosity of thousands that ended up taking the test featured on the Gabriel Code website.
S is for SPECIFICITY
People who are telling the truth get specific. The more specific you get, the more people will believe you. Because bullshitters don't and can't get specific. For instance, adding a number, a data or a target market in your headline implies specificity. "Are You Making These 5 Manifesting Mistakes?" – the number "5" implies specificity. "Why Women Are Making These 3 Mistakes With Men" – the number "3" and the category "women" imply specificity.
Specificity creates a structure just within the headline to get people to trust what you have to say. This will cause a boost in your conversions, the open rates of your emails and even the number of likes for your Facebook status.
Below is a blog post that we shared on FinerMinds, written by our Product Development lead, Dana Saviuc, which was even shared by Huffington Post. It went on to become perhaps the most viral personal growth article ever, with close to 1.3 million Facebook shares across all channels.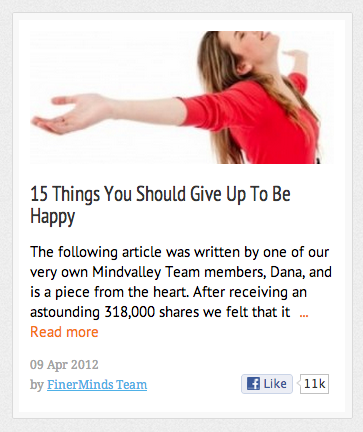 I'm not saying that the headline alone was responsible for this – but take note of the specificity behind her headline. She didn't write "How To Be Happy". She specified 15 things, and that these 15 things are things you should give up. That's specificity.
The Bottom Line
Automation, Benefit, Curiosity and Specificity can be used for just about anything you publish, whether it be a sales copy headline, an email subject, a social media status, a blog post or even the title of your YouTube video. When there's a need to capture someone's attention with the first sentence, apply this technique into your writing.
What are some of your favorite headlines that you've seen in the market? Let us know below, and if you learned a good thing or two from this post, share it with your team. Thanks for reading, and do follow us on Facebook to get free tools and trainings from Mindvalley straight to your newsfeed.