Nine hundred million users and still counting. That's the kind of crowd you can reach through the Facebook Advertising platform at a price much lower than traditional advertising. But broad targeting can be risky – not only will your advertising costs soar, but your traffic quality will suffer and you won't be able to pinpoint the right type of customers that best appeal to your products.
Thankfully, Facebook has a revolutionary feature that allows advertisers to target people based on their Likes and Interests. Instead of marking the spot based on search, this feature lets you narrow it down to the right audience by concentrating on things that appeal most to them.
So how can this benefit you? With a clear understanding of your demographic and the personalities of your audience, you'll be able to press their hot buttons and tap into their emotional wants and needs, drawing high quality traffic to your websites.
At Mindvalley, we've discovered that by targeting related interest groups aside from our core interest groups, our advertising campaigns have grown while staying profitable. However, when it comes to Facebook targeting, every time you target an audience who's interested in "A", you are essentially NOT targeting people who are interested in "B", "C" and so on.
Note: The ability to find and target new interest groups on Facebook will determine your success in Facebook Advertising.
Facebook Advertising Rolodex
But fret not, because we're sharing our Facebook Advertising Rolodex with you, which will help you find additional interest groups. So read on…
This strategy deals with expanding an existing keyword or interest by doing additional keyword research. For example, if the interest you are targeting is "meditation", what about "meditation books" or "meditation music"? Certainly people who practice meditation would also be keen to check out some meditation tools, so don't discount that likelihood.
Let's take this a step further. You can actually find additional "key phrases" by adding an extra alphabet after your core keyword (under the Facebook Ads Manager), see below: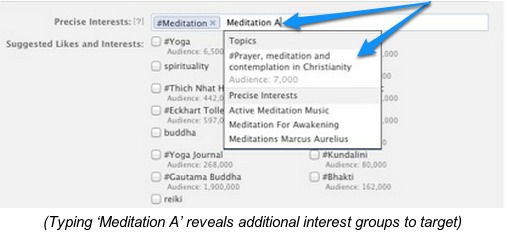 Notice the suggested Likes and Interests below the "Precise Interests" option? Could they be potentially targeted interest groups for your business? Try this out with alphabets B through Z too; you'd be amazed by how many new keywords you can discover. Do some research to see if they could be related to "meditation" (or your chosen Interest). We learned this neat trick from Killer Facebook Ads author Marty Weintraub.
Having a good understanding of your niche can help you expand your interest groups as well. Going back to the "meditation" example, we found that many yoga practices incorporate meditation into their routines, so yoga could be something we would want to consider targeting too, as well as other practices known for using mediation such as Tai Chi.
Google Keyword Tool
Let's move on. The Google Keyword Tool isn't just used by Adwords experts. Did you know that Facebook Advertisers have much to benefit from this amazing tool as well? Simply enter your main keyword into the tool and you'll see a bunch of other keywords which you could potentially target.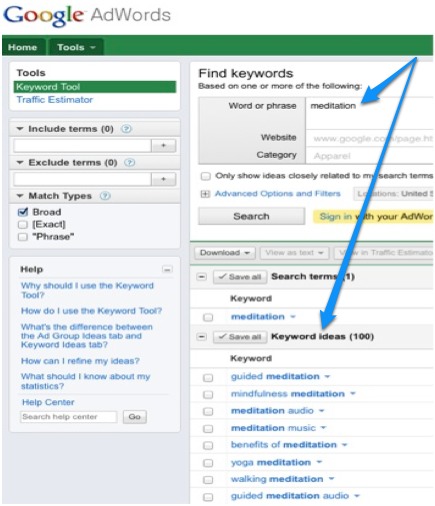 Don't forget to also try it for your expanded keyword groups (e.g yoga) as well! In no time you can create a plethora of interest clusters for your campaigns.
Wikipedia
Here's another helpful resource: Wikipedia. Yup – everyone's favorite textbook. There are two areas of interests within the Wikipedia page which you can utilize to discover new interest groups.
If you did a Wiki search on the term "Cosmology" and scrolled down to the middle of the page you will find the section labelled "See also". Usually, they present results which are closely related to the Wiki page, which could be something you can explore. This is the first area of Interest.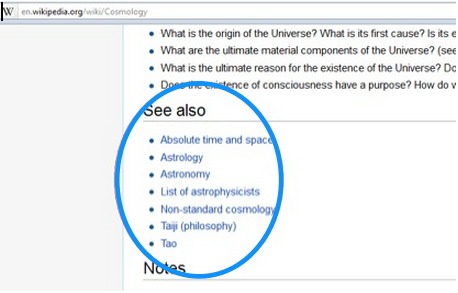 The second area can be found at the bottom of the page.


Notice the major subfield of Astronomy and Astrophysics? There's a column called "Categories" below as well which you can test to see if they can be suitable interest groups for your ad campaigns. It's like a running streak, isn't it? Hot diggity!
Lightbulb Moment
I've got a story to tell you. Sometimes, inspiration comes when you least expect it. I was at a shopping mall one day and I decided to check out the bookstore. Being a personal growth junkie, I was naturally drawn to the self-help aisle.
And then it hit me…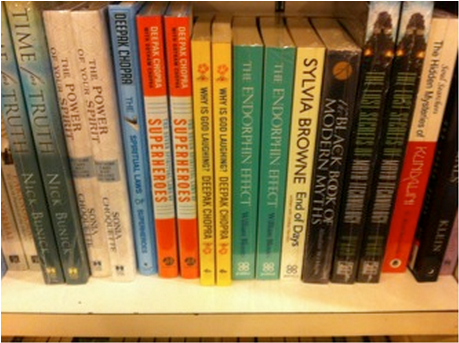 What if I targeted famous topics and authors from that section of the bookstore? The next time you walk into a bookstore or library, make your way to the section which relates to your business and write down as many book titles and author names as you can, because these make great Facebook Interest groups!
Heck, don't just stop there; the world's biggest bookstore right at your fingertips – Amazon! With an abundance of titles and categories to browse through, you'd be able to immediately pluck out the hottest selling books, the headlining authors and even the related products their customers have also bought. There you go!
Investigate
Okay, so we're down to the final (but never the least) tip of this holy grail – no Mindvalley Insights article will be complete without a Mindvalley Trade Secret. So here it is:
Become a modern day Facebook Detective by spying on your customer's Likes and Interests on Facebook.
Yes, this might sound a bit sneaky, but in actual fact, all you're doing is simply checking out whatever information that's been made public by your customers on their Facebook profiles. Simply fill your customer's email address into the Facebook search bar to see if their other Likes and Interests are listed – this information is directly from the people you want to please so what's better than taking data from the number one source!
I hope you've gained plenty of useful information from this article. Having said that, I'm sure there are other unique ways to go about mastering Interest Targeting, so feel free to throw your ideas and findings into the pot by leaving a comment below and we will continue to share what we learn with you. 🙂