A Light Box Pop-up is a small window that appears over the webpage and grays out the background to prompt site visitors to sign-up. The idea is to give emphasis to the call to action or CTA.
We tested using a Light Box Pop-up on our Silva Mind Body Healing Website. Sign-up rates dramatically increased by 67%.  This is how the Light Box looked like: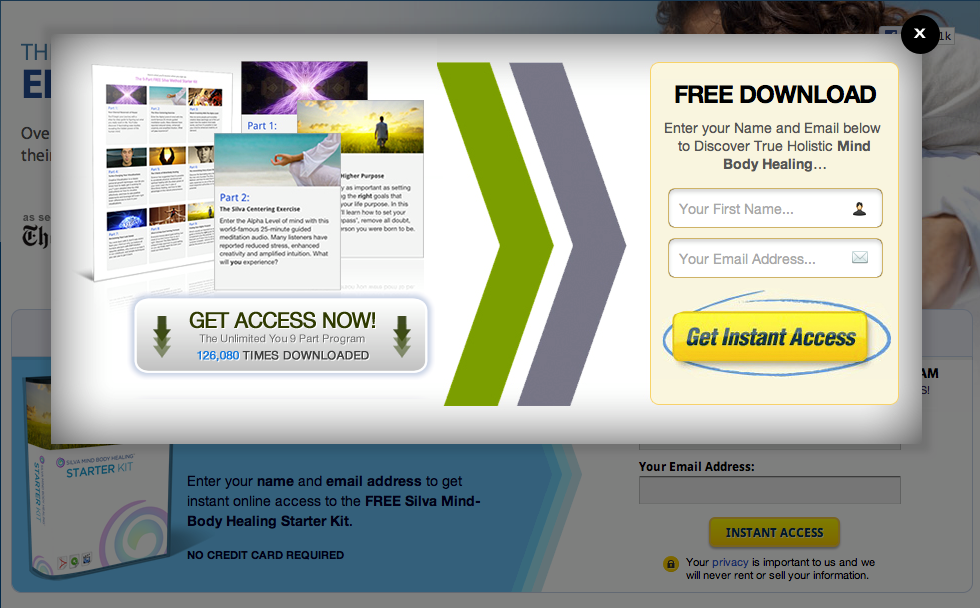 Now, pop-ups can be very annoying. Remember those pop-ups prompting you to have 3D aquatic screensavers? So annoying, in fact, that web browsers created pop-up blocks. This is why it is important to be strategic when using the Light Box Pop-up. It should draw visitors in, not turn them off.
Here are some things to keep in mind:
It should have a sexy and appealing design.
It should include the product image.
It should include the number of downloads.
Light Box and the main website should have closely-related design.
The Light Box should appear after 10 seconds on the website or once the reader has scrolled down to a particular point on the page – after all the point of a Light Box is to boost sign-ups of engaged readers and not just to boost conversions period.
It should never appear for people who have already signed-up.
A Light Box should never be used on Google landing pages (or run the risk of going against Google policy).
Try implementing this on your website and tell us if it worked for you. You can use Popup Domination but remember not to use their default pop-up.
---
[googleplusauthor] is the Project Manager of Mindvalley's Analytics and Innovations Team.