It's true. One of the most simple ways to ramp up sales is to offer a $1 Trial.
Many marketers flinch at the mention of a $1 Trial. The common fear being that customers will just take their product for a test ride and cancel it later without "returning" the product. In other words, the marketers become a victim of digital piracy.
We're not ruling out every chance that this might happen but while there's really no way for digital marketers to completely escape the bug of piracy, our experience has shown that it shouldn't govern your business decision.
We trust that our customers will purchase a product at full price if they love the content and quality as much as we do. The point is, piracy shouldn't be a concern if you consider the possibility that a $1 trial can help you boost your sales. Simply put, it will bring you more money if you value your product quality.
If the concept of a $1 trial promotion is something you're not familiar with, here's how it works:
1. Email your customers informing them that you will be offering a $1 Trial for a selected product of yours.
2. Allow them a 10-day trial period for only $1 to let potential customers test the quality and effectiveness of your product before committing to the full price.
3. If they love your product and would like to continue using it, they can purchase it on retail amount after 10 days. If they don't, then they are able to cancel their subscription easily and hassle free.
Although it is easy to assume a high opt-out rate when the campaign closes in on the 10-day mark, Mindvalley has actually recorded a keep rate of up to 70% with our $1 Trial promotions.
But before we tell you how, one thing should be made clear: the goal of $1 Trials promotions should never be to "quietly" charge your customers should they forget to cancel their subscriptions following the 10 day trial period.
A year ago, the Federal Trade Commission cracked down on $1 Trials conducted by businesses (mostly in the weight loss industry) who convinced customers to sign up to trials, only to charge the customers the full price once the trial period had ended, without notifying them. These dirty practices have long be condemned by ethical marketers, and it is certainly a practice that Mindvalley is against.
We don't believe in the idea of making sales through trickery. Not only does such shady practice devalue your product but luring prospects into your funnel and tricking them to pay will also hurt your business in the long run. For instance, it ruins a Customer's Lifetime Value (CLV) and jeopardizes their trust in your brand.
So when the Federal Trade Commission announced their new and stricter policy on cheap trial promotions, we happily complied. This meant that high-quality businesses could invest, practice and experiment without sacrificing a customer's satisfaction.
Customer trust is an indispensable asset and you can't earn it with poor marketing processes. So how do we marry a high quality product with a cheap trial offer and still set a classy tone, to guarantee a successful marketing campaign? Here comes the how part…
Two Tips for Creating a Successful $1 Trial
Mindvalley has hacked the conventional $1 Trial framework and taken it to the next level. The results? High keep rate, higher customer satisfaction with our products and GREAT customer experience with our service.
How? Here are two tips on how to craft a successful dollar trial promotion:
1. Always make canceling easy. Canceling a trial subscription shouldn't be a long and complicated process for your customer.
Mindvalley does it by including the contact details of our customer support representative under our order menu. This makes for a comforting assurance for our customer, knowing there is a real person ready to assist them immediately if help is needed.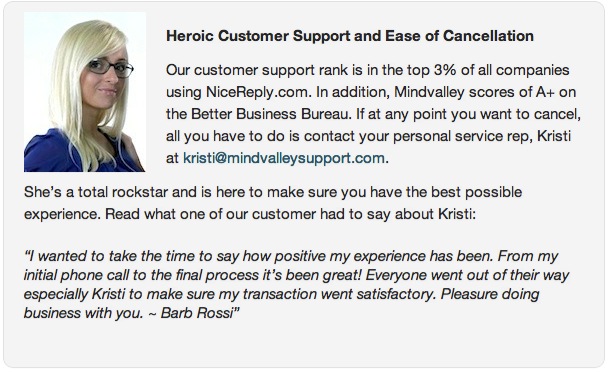 2. Regularly remind your customers how they will be charged and how they can cancel their subscription. We do this by:
       –  Including a reminder in the order confirmation email that is sent out immediately after the purchase
       –  Informing the customer in a reminder email sent out a few days before their trial expires.
Let's Talk Dollars and Sense. Aside from our methods in crafting a $1 Trial, let us interest you with our results in numbers. We ran a promo on one of our products, Silva Manifesting using the same protocols as described above, and this is what came in:
Keep Rate: 50%
In other words, half the subscribers to the $1 Trial decided to stay on and purchase the product at its retail price – US$149. The other half who were not keen had easily cancelled their subscription on their own. But let us entice you further. We also took to changing the way we structured the promotion. Here's what we did:
1. We turned to our personal growth blog, FinerMinds, to host the Landing Page for the campaign, where we entertained readers and drew their attention with an animated video: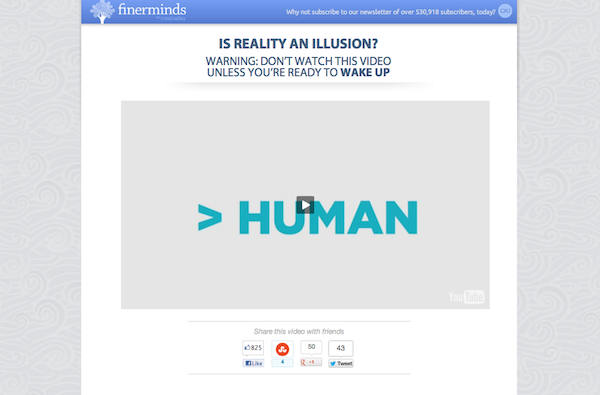 2. From the Landing Page, those who were interested in the product were then taken to the Opt-In Page, where they were presented with a video featuring Vishen Lakhiani endorsing Silva Manifesting. This too was hosted on FinerMinds: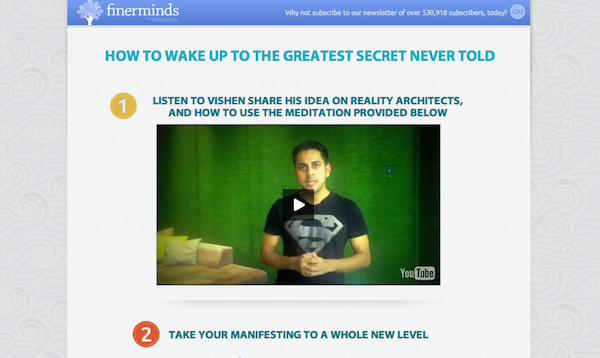 3. Once the customers understood the concept and objective of the product and had the option of exploring further, we finally led them to the $1 Trial page, this time as hosted by the Silva Manifesting website itself: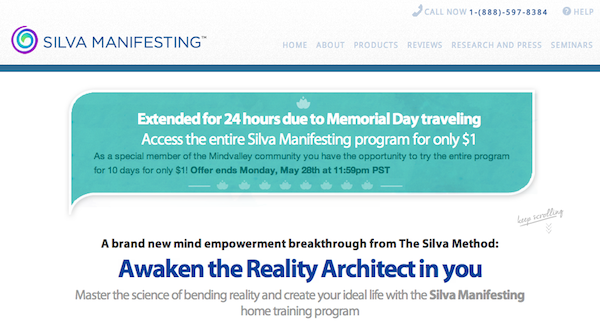 In the case above, we took the advice of marketing coach Dan Kennedy – "Do the opposite of what others do". Instead of designing a one-dimensional product page, we leveraged on the "community"  factor of FinerMinds and raised engagement between the readers and the product over a course of days. This personal approach creates more trust among our customers and indirectly contributes to our bottom line.
At the end of the day, if you believe in the quality of your product and have carefully strategized how you position that product and your brand, even something as "simple" as putting a $1 tag on your work can generate rewards by the multifold (and keep them).