What typically comes at the bottom of a sales page: the call to action and order button – maybe a cheesy P.S. line (if you're an old school direct response marketer). But here's another alternative that works even better.
It started with me questioning the use of cheesy P.S. lines on product pages. Yes, tests proved that they work. They give a mild 3 to 5% boost in some cases, but still, they worked. However, they made a sales page appear like a used car lot. So I asked myself "Why do P.S. lines work?"
The answer is these lines reinforce the main benefit of a sales page. It can highlight a price cut, a powerful guarantee or any other important thing that a customer may have skipped while skimming through copy.
But what if there was a cooler way to present these attractive features? The inspiration came when I was shopping for a camera on Sony's website.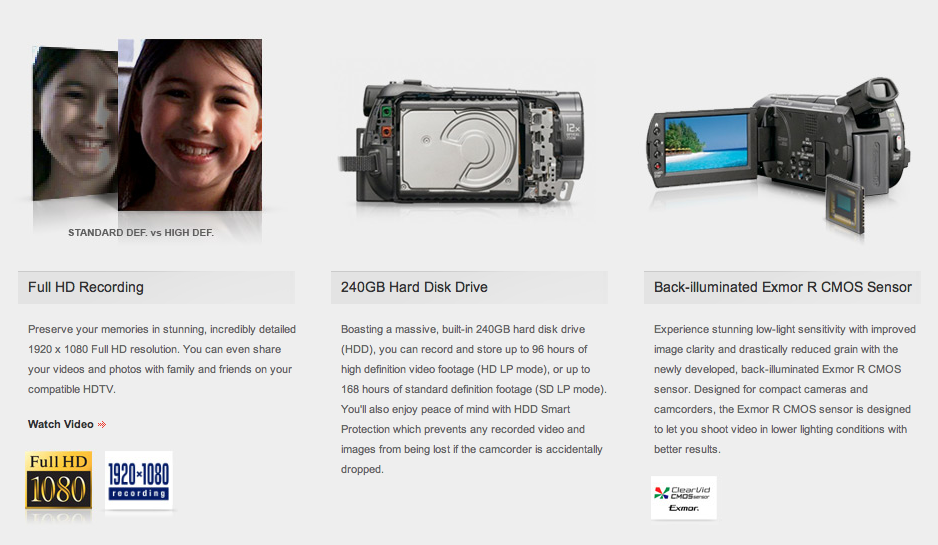 SONY inspired the solution. They used a Feature Box to highlight the benefits of using SONY products. In the box Sony emphasized 3 big things about their product that mattered to the buyer: High Definition recording, larger than normal hard drive, and a backlit sensor.
At this time, I was working on the copy of the site Philosophers Notes.com. So I asked myself, what are 6 "features" about this product that made it unusual? I placed this in an attractive feature box. Here's what I got.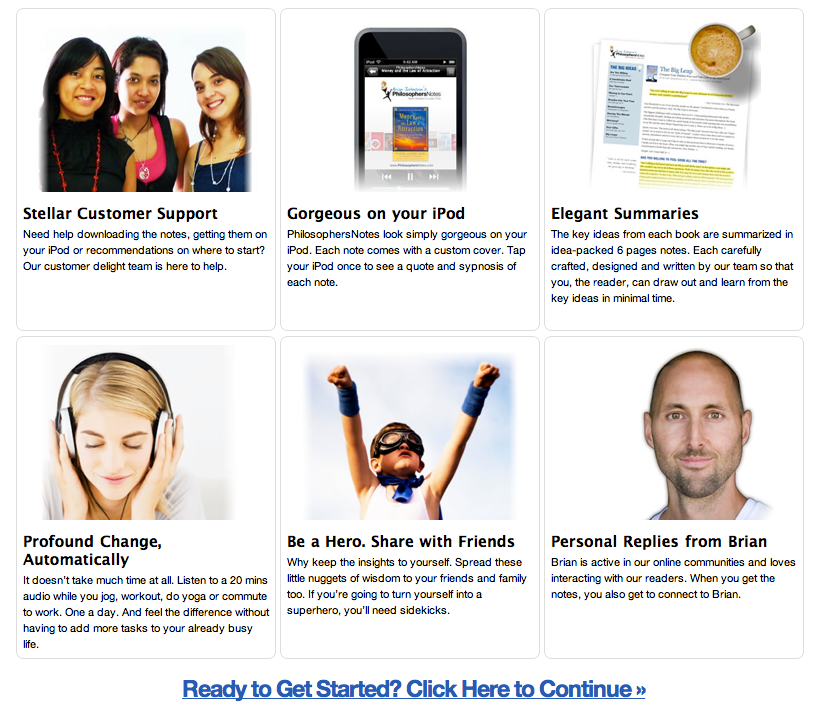 This page showed a 97% chance of beating the original and a 63% boost in conversion.

Impressive indeed.
We later adapted this for other sites. Here's the one for Quantum Jumping: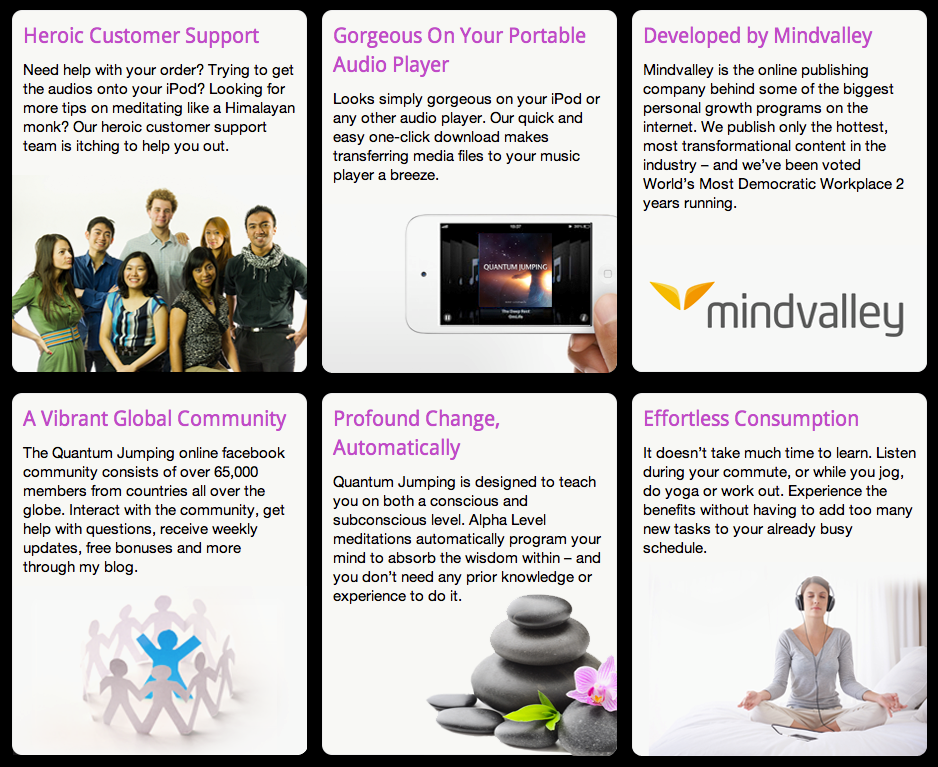 How to conjure up your feature box content? Your key here is to draw upon content unknown to your reader. By including some 'unexpected' highlights of your product you can make full use of the feature box. Here are some ideas:
Customer Support – bring attention to your support team who know the product upside down, inside out and are ready, willing and able to provide a level of support which is second to none.
Handheld Devices – why not let your customer know your product will look sleek and sexy on any hot device (borrow the glamor of the latest Apple product to emphasis your product's own glamor).
Quality they can Trust – let your customers be assured by your strong market presence and undeniable quality.
A Vibrant Global Community  – get your customers interactive with the neat community you have following you and your product.
Profound Change, Automatically – when will your customer receive the benefit from purchasing your product? As soon as it has downloaded of course! Highlight the flexibility of your product.
Effortless Consumption – focus on the ease of use of your product.
Bonus Gifts  – if you have a freebie to throw in its a perfect time to do it now. Pair the details with an inviting image of the bonus gift.
Digital Download Site – membership sites are out and digital download sites are in. Highlight the digital download site for easy retrieval of the product in just X amount of clicks.
Whichever topics you choose to cover don't forget to add a call to action ("CTA") at the bottom of the boxes to link your customer to your order form. Check out the CTA under the Philosophers Notes.com above or a more recent example on TheCreationMethod.com/products – check out the very bottom of that page for the CTA.
[googleplusauthor] CEO and Co-founder of Mindvalley